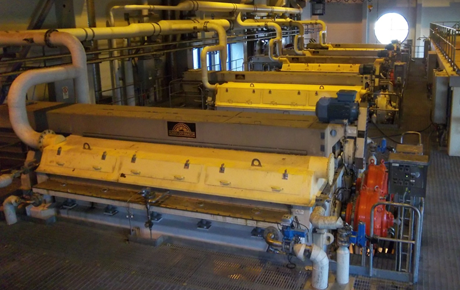 SPM HD monitors wash press at Stora Enso Skoghall
The Stora Enso Skoghall board mill in Sweden has chosen the SPM HD® measuring technique with Intellinova Compact to ensure the production of one of its critical wash presses.
The Skoghall mill manufactures paperboard for liquid packaging. The paperboard is produced on two large board machines; KM7 with a production capacity of 300.000 tonnes per year, and KM8 with an annual capacity of 425.000 tonnes of cardboard, making it one the of the world's largest board machines.
To ensure production on one of its important fibre line wash presses (operating at 5-10 rpm), Stora Enso Skohall has decided to implement the SPM HD measuring technique in combination with the Intellinova Compact online system. The system will monitor the four large roller bearings in the wash press.
Thomas Mithander, maintenance engineer, comments on the decision to introduce SPM HD: "The Stora Enso Skoghall mill has five wash presses installed on the sulphate pulp line. One of these presses is positioned where the entire flow of pulp from the digester will pass through it. This particular wash press is under excessive strain and there have been frequent bearing problems, with more or less unplanned bearing replacements during longer maintenance shutdowns. In conjunction with these scheduled stoppages, we have planned and carried out visual bearing inspections by opening the bearing housings, and on several occasions, we have found bearing damages leading to "emergency replacements".
To minimize unplanned stops and bearing replacements, we have installed a system for circulating oil in the bearings (four bearings on each wash press) in order to clean the oil from particles. We now want to go one step further by detecting bearing damages in time and enable planning of maintenance costs, while also avoiding emergency maintenance work causing significant production losses.
During the summer of 2012, provisionary bearing measurements were made with SPM HD on two of our other presses, located in the bleach plant. We had a bearing match on one of the presses and decided to replace the bearings during our fall stoppage. When dismounting the bearings, damages were found exactly where measurements indicated. We could not ask for more solid evidence that monitoring of low-speed equipment is in fact possible. We have now chosen as an initial step to install this bearing monitoring equipment on the wash press where the entire pulp production passes.
Our preventive maintenance operators will receive equipment and software training from SPM Instrument in conjunction with the installation of the monitoring system."