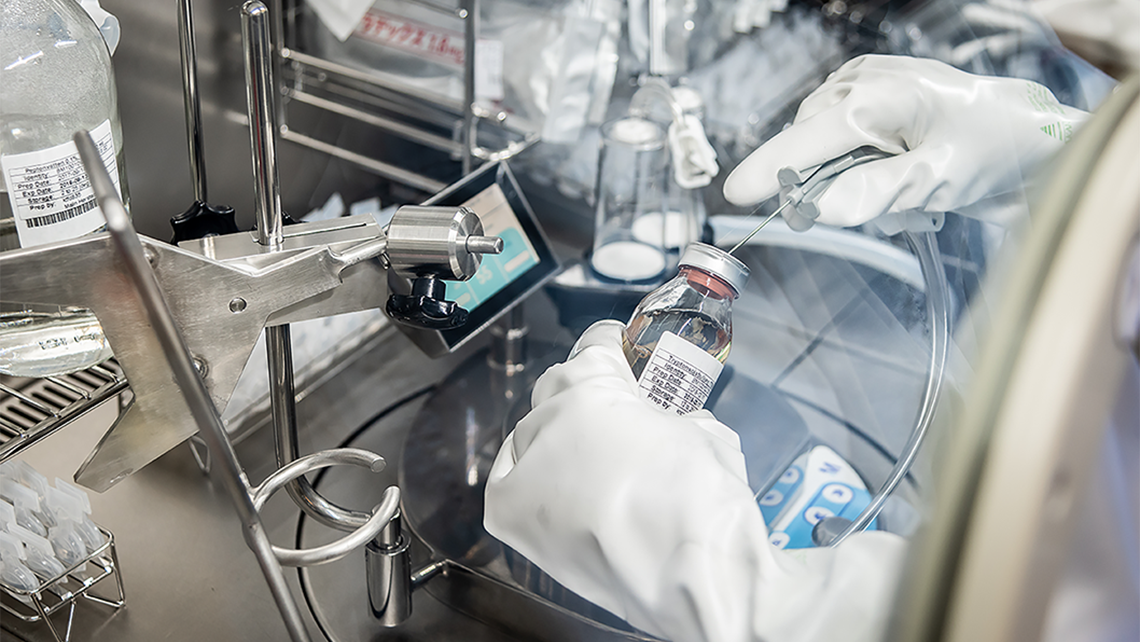 AstraZeneca secures operation of production-critical fans
Swedish biopharmaceutical company AstraZeneca is now investing in the Intellinova Compact online system to monitor the mechanical condition and lubrication status of several production-critical fans in its plants in Gärtuna and Snäckviken in Södertälje.
At Campus AstraZeneca Södertälje, thirty different pharmaceuticals are manufactured for more than one hundred markets. In Gärtuna, tablets and capsules are produced, while the focus in Snäckviken is inhalation, spray, and liquid drug products.
Currently, online monitoring in both plants is planned to include a total of seventeen fans, where four DuoTech accelerometers are installed per fan unit. DuoTech is a combination sensor enabling both vibration and shock pulse measurement in a single sensor, connected to the Intellinova Compact online system.
At the facilities in Gärtuna, four belt-driven fans will be monitored online. Stefan Gottfridsson, Group Manager Operations & Media Technology at Gärtuna, says: "These fans are main units that ensure the right air circulation, air directions, temperatures and relative humidity (RH) according to current requirements. The critical production rooms have so-called FMS sensors that monitor the air pressure in the room. If a fan in the main ventilation stops working, there will be a production stoppage, since we will not be able to maintain the air directions, temperature and humidity (RH) required for the product being manufactured. Anytime a main unit stops, it also means that there will be a deviation to investigate. The requirements are very carefully adhered to as AstraZeneca always puts the patient first. We have alarms on all critical units around the clock, and with online monitoring of the critical components of our motors, such as bearings and belts, we can more easily predict any major breakdowns on our equipment."
At the factory in Snäckviken, four direct-driven and nine belt-driven fans will be monitored. These include ventilation units serving production rooms with high cleanliness classification or tight climatic requirements placing high demands on ventilation regarding air circulation and air directions, or moisture content and temperature. Should one of the fans not be operational, significant consequences will result; production must then be stopped because it is not allowed to go on while the ventilation is at a standstill or climate requirements are not met. It also involves time and resource-intensive investigations of how production has been affected, which may lead to costly scrapping and delays. Meticulous cleaning must be done on the affected premises when ventilation is back up before production can start again.
Joakim Lundell, Utilities Engineer at Snäckviken, comments: "The investment in online monitoring of the fans is part of the 'Digital upgrade' strategy, which aims at expanding and improving the monitoring of critical parts of the media systems within AstraZeneca's production facilities. The main objective is to avoid acute breakdowns in favor of planned measures in consultation with operations, thus reducing the amount of scrapping and loss of production."
In conjunction with this investment in online monitoring, AstraZeneca's existing Condmaster Ruby analysis software is upgraded to the recent 2020 version. The operating condition of the fans is monitored using the patented SPM HD measuring technique for shock pulse measurement and HD ENV for vibration enveloping. With HD technology, the system provides exceptionally early warning for deteriorating mechanical condition. It also alerts for other machine faults such as imbalance, alignment errors, and loose parts. Along with Condmaster Ruby 2020 comes the Condmaster.NET web application, where measurement results ​​can be tracked via smartphones, tablets, laptops, or desktop computers.
Installation and commissioning of the sensors and online system will take place in the coming weeks.
AstraZeneca is one of Sweden's major export companies with operations in Gothenburg and Södertälje. Of the approximately 7,200 people working in research, production, and marketing of AstraZeneca pharmaceuticals, 4,800 people work in the facilities in Södertälje.