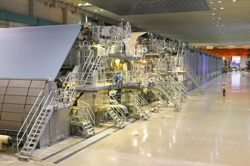 Stora Enso Kvarnsveden to monitor wire presses with SPM HD
The Kvarnsveden paper mill near Borlänge, Sweden, has opted for online bearing monitoring with SPM HD on a number of low speed machines. The installation comprises two wire presses with twenty measuring points per press and four wash presses with four measuring points each.
The wire and wash presses, which supply pulp for the PM12 paper machine, is the part of pulp manufacturing where the pulp is bleached and washed for the desired paper quality. PM12, inaugurated in the spring of 2006, is one of the world's largest paper machines. In 2009, this machine set the world record in amount of paper manufactured per minute; the record was an average production of 1926 meters per minute during 24 hours.
Göran Almqvist, vibration technician at the paper mill, comments on the choice of SPM HD for these machines: "The further development of the shock pulse measuring technique which makes it easy to detect and analyze bearing failures on low rpm machinery is very interesting. Successful case stories and ease of analysis were contributing factors when investing in SPM HD for our thermo-mechanical pulp plant."
Since its launch in 2010, the SPM HD measuring method has attracted much interest in the pulp and paper industry and many Swedish paper mills now use the method to measure bearing condition on machinery running at low speeds, among them SCA Ortviken, Korsnäs Gävle, Smurfit Kappa Kraftliner Piteå and Hallsta paper mill.