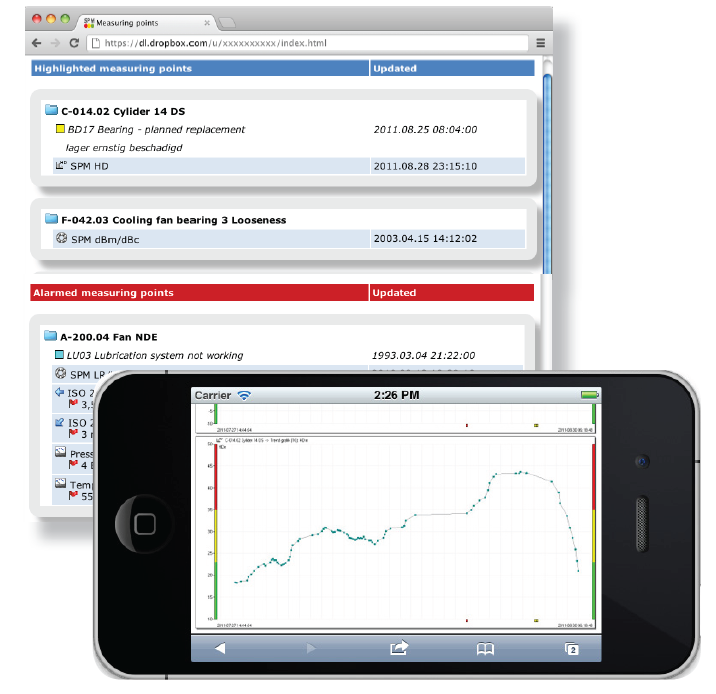 SPM Instrument presents Condmaster Ruby
The new release of the Condmaster condition monitoring and predictive maintenance program Condmaster Ruby® continues to enhance the software with powerful new features and usability improvements. Among them is advanced functionality for the recently launched instruments Leonova Diamond® and Leonova Emerald®.
One example of the new features is Publishing of trends and alarms on the Internet, which offers the possibility to publish trend graphs and alarms on the Internet, enabling users to view them via most mobile devices with an Internet connection (such as smartphone, tablet and computer), without access to Condmaster. This enables you to easily monitor critical machines or machines with deteriorating condition when you are on call or on the go.
More new features examples:
Measuring point imaging:

 

connects images or photographs to measuring points, and can be displayed in various parts of Condmaster, e.g the Alarm list, Graphic Evaluation, Colored Spectrum Overview, etc.
Highlighted measuring points: measuring points of particular interest can be highlighted in the Measuring point tree and displayed in a separate window, making it easy to keep an extra watchful eye on them.
HD Order tracking:

 

algorithms produce a spectrum with exceptional detail and without smearing problems.
Vocal comments:

 

comments to measurements can be voice recorded (in .wav format). When a measuring point has a voice comment, it can be played back in Condmaster.
Read more about the new features in Condmaster Ruby upgrade benefits.