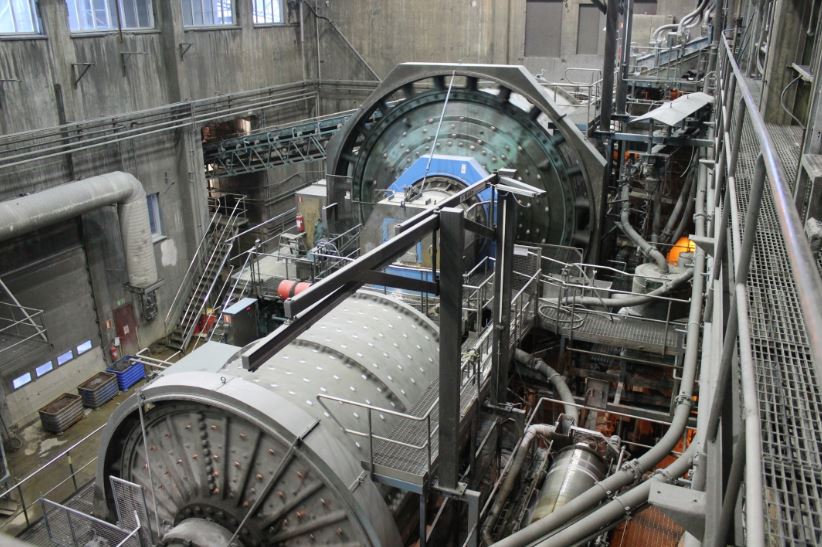 SPM Instrument introduces process optimization for tumbling mills
With over fifty years of innovation and development of high-performance solutions for condition monitoring, SPM Instrument has gained solid experience of the various needs in many types of industries. The company now turns its extensive technical expertise into a new area of application for the high-resolution data of its patented HD condition monitoring technologies.
When SPM first introduced the groundbreaking condition monitoring technologies SPM HD and HD ENV, the focus was entirely on the technologies' exceptional data quality and capacity to provide record-breaking early warning of mechanical and lubrication issues in rotating equipment. More recently, SPM has discovered that HD technology data can provide information not only on the mechanical condition of production-critical machines but also valuable insights into the industrial processes themselves. 
Beyond condition monitoring – a new area of use for high-resolution data
The discovery that traditional vibration and shock pulse measurement has uses beyond industrial condition monitoring is now opening up a whole new area of application.
The curious and careful monitoring, examining, and following up of unfamiliar data patterns has revealed valuable information about the inner workings of various industrial processes.
Besides optimizing machine operating condition, the same advanced measurement technologies, smart algorithms, and hardware used for condition monitoring now enables process industries to enhance new areas of their production.
Optimization of the grinding process in tumbling mills
First up to tap into this new opportunity is the mining and mineral processing industry, where high-cost equipment and an energy-intensive process with a large carbon footprint are some of the key drivers for optimization.
A particularly vulnerable part of the mining process is the grinding and crushing of the ore. In many mines, the tumbling mill constitutes a bottleneck through which the entire production passes. Tumbling mills are huge investments that are not easily replaced. Thus, increasing the operational efficiency of existing concentrator circuits is vital to maximizing production throughput and quality.
Mining operations involve some significant challenges concerning health, safety, and environmental factors. Crushing and grinding account for a large part of the total energy consumption in the mining industry. More efficient crushing has the potential to reduce the carbon footprint of existing crushing equipment. Even minor improvements in the comminution process can improve resource and energy efficiency, resulting in reduced energy usage, lower greenhouse gas emissions, and waste reduction.
Furthermore, a smooth and well-functioning grinding process can help keep personnel safe, alleviating the need for personnel to work inside the drum to replace the liner and/or lifter bars or clean out clogged grinding materials.
Toe position monitoring
SPM Instrument's new process optimization solution for tumbling mills (patent pending) monitors the charge toe position. The overall purpose is to keep the mill running as close as possible to maximum working capacity while at the same time avoiding the risk of fault modes such as mill overload, underload, and freewheeling. The solution is an effective tool for oper­ators to determine the ideal feed rate for optimal grinding conditions.
Increasing grinding efficiency also enables the optimization of particle size distribution. An essential parameter for the efficiency in the separation stage, particle size optimization has a positive impact on flotation performance. That is particularly important in mining operations with a single concentrator circuit that may need to handle changing ore properties. The benefits of optimized crushing and grinding will propagate through the entire circuit.
Further benefits of this process optimization solution include the monitoring of:
wear-and-tear on the liner and lifters
outlet blockage
density
big rock occurrence
The hardware installation is straightforward and robust, without any equipment attached to the mill's rotating shell. The toe position usually differs at the inlet and discharge ends of the mill. The solution is unique in that rather than measuring at a single position, it measures vibration at both ends, using patented HD vibration measurement technology. The information derived from the vibration data is presented in a user-friendly, web-based dashboard in the control room, enabling mill operators to optimize the toe position of the charge and thus optimize grinding efficiency, throughput, and raw material yields.
The toe position monitoring solution is a user-friendly and highly impactful process optimization tool with low investment cost and rapid return on investment. Taking advantage of the same technologies and equipment as SPM's high-performance machine condition monitoring solutions, toe position monitoring has significant potential to impact the bottom line.
Process optimization and condition monitoring – a winning combination
This new application area for high-resolution process data ties in perfectly with condition monitoring. In an industry with high production costs, combining the benefits of condition-based maintenance with those achieved through process optimization is a winning strategy, contributing to:
Increased production speed
Increased raw material yields
Maximized availability
Enhanced plant condition
Health, safety, and environmental improvements
A well-designed, well-implemented condition monitoring program paired with successful optimization of critical processes brings out the best in both assets and production, thus enabling plants and operations to leverage new opportunities for increased profitability and business growth.
For more information, please contact:
SPM Instrument BV
Telephone +413 373 176 or info@spminstrument.nl