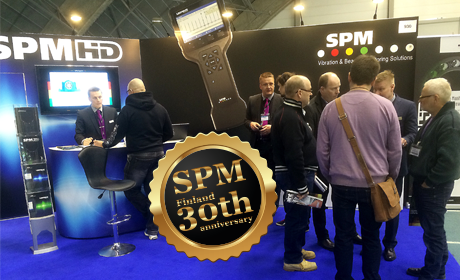 SPM Instrument Finland celebrates thirty years in business
November 26th, 2016 marks the 30th anniversary for SPM Instrument Finland, one of the SPM Group's first subsidiaries.
Since its founding, SPM Instrument Finland has delivered a complete range of products and services related to the planning, implementation, training and support of condition monitoring technologies to customers all over the country. Important industries for SPM Finland are pulp and paper, steel, chemicals, energy, OEMs and marine.
"SPM Finland has worked closely with Finnish industries for decades and will continue to deliver knowledge and advanced technologies to help customers solve their daily preventive maintenance tasks. We are excited to be the suppliers of the new HD technologies, which provide the longest pre-warning times in the condition monitoring industry and contribute to paving the way to operational excellence," says Managing Director Juha Pylkkänen.
SPM Instrument Finland's first office was opened in Malminkartano in the northern parts of Helsinki in 1986. Today the company operates out of Espoo, Finland's centre for high-tech industry in the Helsinki metropolitan area. SPM Instrument Finland also covers industries in Estonia.