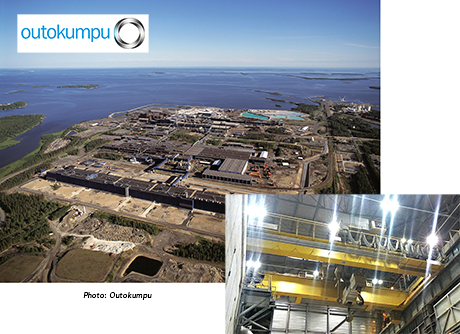 Online condition monitoring with Intellinova and DuoTech introduced at Outokumpu
Online crane condition monitoring with the new DuoTech accelerometers is now being implemented on a crane in the steel melting shop at the Outokumpu mill in Tornio in northern Finland.
The Intellinova Compact online system with DuoTech accelerometers is delivered and installed on the steel mill crane at Outokumpu this fall. The system will monitor equipment condition through HD ENV and EVAM vibration analysis combined with SPM HD measurement. The new DuoTech accelerometer makes it possible for the first time to combine these unique vibration and shock pulse measurement technologies using a single sensor.
Due to short measuring windows and slow rotational speed, condition monitoring of crane applications is quite complex. The possibility to use multiple measuring techniques with the DuoTech accelerometer simplifies planning and use while also saving installation and maintenance costs. The possibility of a wireless Ethernet data connection between Intellinova Compact measuring units and the Condmaster Ruby 2016 software makes the online system easy to implement on moving applications like the crane.
Outokumpu is one of the world's four largest producers of stainless steel. Production facilities are located in Finland, China, Germany, Mexico, Sweden, the UK and USA to produce a wide range of stainless steel products including hot and cold rolled, precision strip, tubular and long products together with a comprehensive range of fittings, flanges and welding consumables. The raw material is also produced using Outokumpu's own chrome mine and ferrochrome facility.