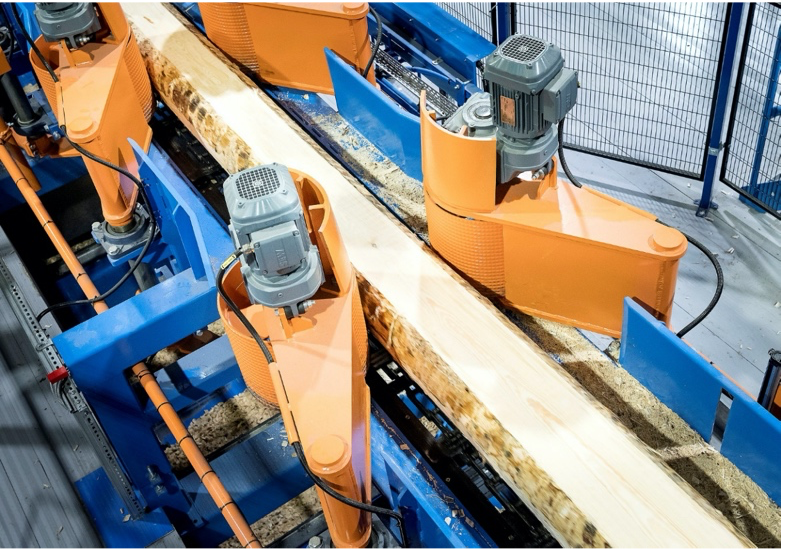 Norra Timber monitors band saws and reducers with online systems from SPM
Following a successful test installation, Norra Timber has chosen to move forward with a condition monitoring solution from SPM Instrument for its new high-tech band saw line at the Sävar Sawmill near Umeå in northern Sweden, aiming to ensure high machine availability and long pre-warning times.
Sävar Sawmill is a high-tech band saw line specializing in processing spruce and pine, a raw material from Norra Skog's catchment area, which extends over half of northern Sweden. This modern plant has a high saw yield and is equipped with X-ray technology – the world's first CT Log (*) – directly in the saw line, enabling the optimization of each log and production of high-quality goods. The annual production amounts to 320,000 cubic meters of sawn goods.
To ensure high machine availability and secure delivery, the sawmill has chosen to install SPM Instruments' latest and most high-tech online system, Intellinova Parallel EN, after a successful pilot test. The system provides exceptionally long pre-warning times for deteriorating mechanical condition and lubrication condition, with extremely clear measurement results that make it possible to detect early damage such as sub-surface cracks in bearings.
Three Intellinova Parallel EN units, one thirty-two channel version and two with sixteen channels, and fifty-one DuoTech accelerometers cover the entire band saw line. DuoTech combines vibration and shock pulse measurement in the same sensor, using the patented HD measurement technologies HD ENV and SPM HD. Measurement data is stored and analyzed in the Condmaster Ruby 2020 software, with the possibility of integration into the plant's control system or desired IoT platform through Rest API or OPC UA.
Using the SPM ServiceNet portal, SPM Instrument also performs condition monitoring of Sävar Sawmill, where machine condition is monitored via remote analysis by SPM's service engineers. The sawmill staff can easily follow the work through the web application Condmaster.NET via smartphones, tablets, and computers for an immediate overview of the mechanical condition of critical assets in the facility.
Joakim Jonasson, Maintenance Manager Mechanics at Norra Timber, commented on the investment: "The purpose of our investment has always been to avoid corrective maintenance as much as possible, to allow ourselves to plan the right maintenance effort at the right time, and thus work proactively and preventively.
Unplanned stops in the major drives in the process can take anything from one to several shifts to rectify, which results in major production loss, which is difficult to catch up on since more or less everything we produce are sold products. With the measurement system, we can maintain higher machine availability and better profitability.
The investment has already started to pay off as we have avoided replacing a large plant part in conjunction with a major breakdown. This was possible because extra control measurements could be performed via the measurement system. These measurements showed good values, giving us a decision basis to avoid unnecessary replacement of process parts.
Another significant advantage, or security, that the system provides is increased safety in the form of reduced risk of fire in the event of bearing failure, which is otherwise something that we in the industry have great respect for."
Norra Timber's task is to run the industrial operation, and market and sell the wood products manufactured at the three sawmills in Kåge, Sävar, and Hissmofors and the units for added value products. Norra Timber's owner is Norra Skog, an association of 27,000 individual forest owners with a total holding of roughly 5.2 million acres of forest land. Refining forests throughout northern Sweden, Norra Skog had a turnover of approximately SEK 4.7 billion in 2020.
(*) Computed tomography, also known as CAT scan.