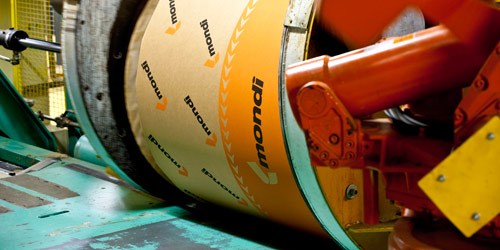 Mondi Dynäs setting new standards with vibration monitoring for PM5
Swedish sack and speciality kraft paper producer Mondi Dynäs has decided to modernise its paper machine PM5 with a new online system for vibration monitoring. The Intellinova online system with vibration monitoring units thus will replace the paper machine's older monitoring system, all in order to increase machine availability, profitability, and safety.
In conjunction with the installation of the Intellinova system, existing vibration sensors and cabling will be used. The online system will also be expanded to include more parts of the paper machine, where some three hundred DuoTech accelerometers will be installed and connected to the system. Overall, the Intellinova system will comprise over five hundred measuring points. In addition to PM5, the winder and various auxiliary equipment will also be equipped with online monitoring.
Mondi Dynäs maintenance manager Micael Koch justifies the choice of SPM as a supplier: "The choice fell on SPM because they could offer the best total solution that fits well into our future approach to personal and operational reliability work."
The new DuoTech accelerometer combines the best of two cutting-edge condition monitoring technologies. Vibration measurement with HD ENV and shock pulse measurement with SPM HD make it possible to obtain a complete condition status of the monitored object, with exceptionally clear readings and very long pre-warning times for reduced mechanical condition.
SPM is the main contractor for the project, responsible for installation and commissioning carried out by SPM service engineers. New cable routes installations are carried out by Eitech under SPM's lead. After completed installation and commissioning, Mondi Dynäs preventive maintenance staff will undergo training at SPM Academy.
Tomas Årman, Sales manager of SPM Sweden, comments on the deal: "This is an extremely important order for us. It confirms that we are a leading supplier of condition monitoring equipment, with measurement technologies and systems in the extreme cutting edge. We look forward to a long and close cooperation with Mondi Dynäs."
Dynäs mill, by the river in Väja, Kramfors, started its sawmill production in 1884 and developed to become one of the top-addresses for high-quality unbleached sack and speciality kraft paper in the world. Starting pulp production in 1915 and paper production in 1917 the mill was acquired by Mondi in 2000.