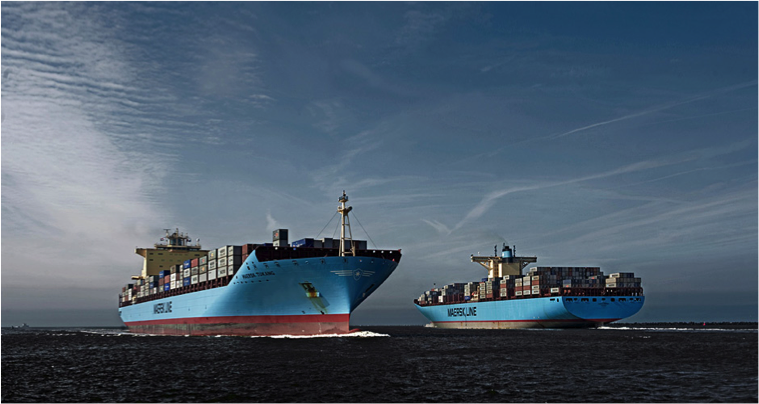 Maersk Line installs SPM online condition monitoring on container ships
In cooperation with its Danish distributor Idekon Technology ApS, SPM Instrument has received an order from the world's largest shipping company in container shipping, Danish Maersk Line, which has chosen Intellinova Compact for condition monitoring of generators and generator bearings.
For a ship at sea, power outages may pose a severe threat to crew, vessel and cargo. The risk of potential blackouts must be reduced by practically all means. The generators which are now monitored online are used for vessel power generation and are rated critical since they are essential for the safe operation of vessels, especially in confined waters.
Five ships with four generators per vessel have now been equipped with online condition monitoring. The scope of supply includes hardware along with the analysis software Condmaster Ruby Compact Edition. The turnkey solution included installation and training, all carried out by SPM service engineers. Installation, commissioning and training have been planned and implemented in close cooperation with the Maersk Line Ship Management Services Electrical Support team - a team which supports +250 Maersk Line owned vessels on a daily basis.  
System configuration for engine room generators (click to enlarge).

"We are confident that by implementing the SPM online condition monitoring system, the Electric Power Supply system on the vessels will be operational at all times and timely actions can be taken when needed. Wear in the bearings, if not addressed timely, can result in reduced air gap between stator and rotor and in worst case end up in mechanical damage of the generators, having a high impact on vessel daily running costs. In addition, an online system will reduce the man hours necessary for planned maintenance inspections," support team representatives say.
Maersk Line and SPM Instrument share a common past. In 1965, shipowner and Maersk co-founder A.P. Møller employed an inventor to find a method for detecting defective cargo pumps before they broke down without forewarning. The inventor, Eivind Søhoel thus invented the Shock Pulse Method (True SPM®, patented in 1969) and SPM Instrument has been present in the maritime industry ever since.