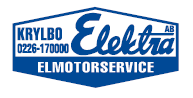 Krylbo Elektra enters partnership with SPM
Industrial services company Krylbo Elektra is seeing an increased need for condition monitoring of its customers' low RPM equipment and has now chosen to invest in the online system Intellinova Compact with the SPM HD measuring technique.
Krylbo Elektra has a long history. Established in 1932, the company today has broad expertise in a wide area including electric motors, pumps, switches, drives and metrology. Krylbo Elektra's Vibration group at consists of five technicians who perform services throughout Sweden.
Krylbo Elektra is investing in the multifunctional online system Intellinova Compact including the patented SPM HD measuring technique - especially suitable for mechanical condition monitoring of slowly rotating machines - and the Condmaster Ruby diagnostic software. The software includes advanced vibration analysis (EVAM) along with an array of sophisticated and useful features. Krylbo Elektra is expanding its arsenal of measuring devices in order to begin measurements on the low RPM and other process critical equipment of its customers, including Outokumpu Stainless in Avesta.
In a comment to the newly established cooperation, Leif Johansson, Supervisor of the Krylbo Elektra Vibration group, said: "We look forward to working with SPM and their products, and we see great potential for increased cooperation in the future, primarily with SPM HD measurements. We have a large number of customers with an increasing need to monitor the condition of their low speed machinery."
Krylbo Elektra performs maintenance, service and sales of electrical and mechanical products, and provides solutions for preventive maintenance in the form of vibration measurement, consulting and field services.