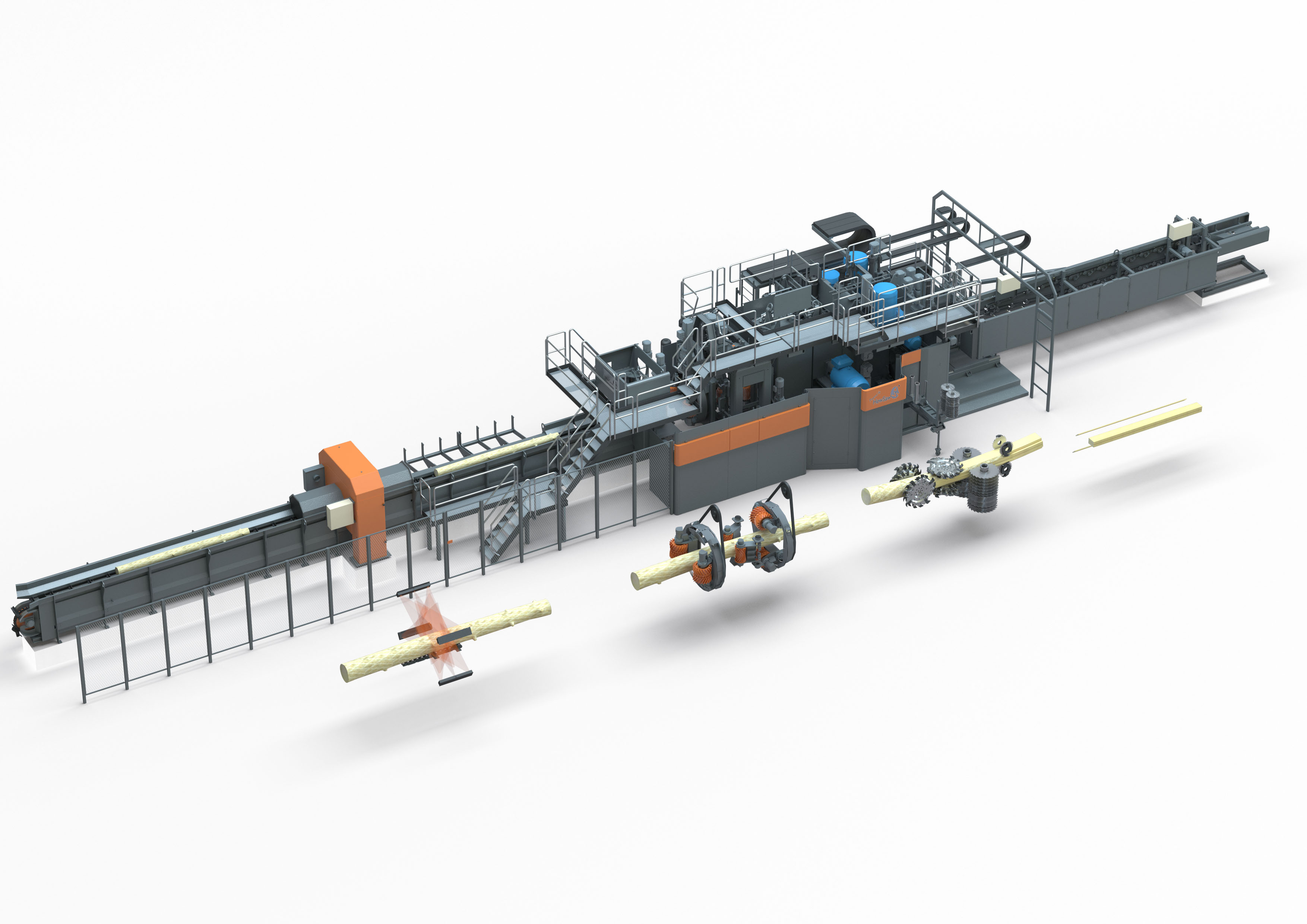 HewSaw Sweden to deliver saw machine with online system from SPM to Setra Skinnskatteberg
HewSaw Sweden AB, a subsidiary of Finnish saw line supplier Veisto Oy, is set to supply a saw machine of the model HewSaw R200 1.1 V1 to Swedish wood industry company Setra's production unit in Skinnskatteberg. The machine, to be delivered to Setra at the end of 2023, will be fitted with SPM's most sophisticated online condition monitoring system, Intellinova Parallel EN.
The robust and reliable sawing machine R200 1.1 V1 is designed for efficient sawing of small logs and has a feed speed of 70–250 m/minute. HewSaw Sweden has previously equipped a sawing machine of the same type with the Intellinova Parallel EN online system at the Vida Wood Nössemark sawmill in northern Sweden.
The sawing machine will be equipped with twenty-seven accelerometers of the DuoTech model as well as eight temperature transmitters, all connected to the online system Intellinova Parallel EN. With the help of DuoTech, the system utilizes patented HD technology for shock pulse measurement with SPM HD and vibration monitoring with HD ENV. The system provides very early warning of deteriorating machine condition, thus enabling good maintenance planning for maximized availability.
In a comment, Claes Backlund, CEO of HewSaw Sweden, said: "It feels good that we will deliver online monitoring to Skinnskatteberg as this gives us even better opportunities to follow up the situation with the customer. That is completely on par with our self-developed maintenance system HewSaw MP."
Mikael Romlin, Mill Manager at Setra Skinnskatteberg, justified the investment: "Maintaining a high level of operational reliability and avoiding unplanned stops is profitable for us both short and long term. We strive for proactive maintenance, with a larger proportion of condition-based maintenance where we can plan our actions. With the online system from SPM, we get entirely new conditions for this."
Starting at system commission, SPM will manage condition monitoring of the saw line for five years via its remote service. The sawmill staff can monitor the measurements via the Condmaster.NET web application on smartphones, tablets, or PCs. Measurement data can also be integrated into other monitoring and control systems using Rest API and OPC UA.
The Finnish family business Veisto Oy plans and manufactures production lines under the HewSaw brand. About 80% of production is exported to other markets. In addition to Finland, the most prominent export areas are Sweden, the Baltics, North America, Russia, Central Europe, and the planted forest areas in the southern hemisphere. Veisto has over 250 employees.
The wood industry company Setra, owned by Sveaskog, Mellanskog, and some minor shareholders, has about 800 employees and a turnover of approximately SEK 4 billion. About 65 percent of sales are export sales. The pine sawmill in Skinnskatteberg in central Sweden produces sawn wood products mainly delivered to Sweden, North Africa, England, and Japan. In 2020, production amounted to 225,000 m3.
See our previous news about other Swedish sawmills using SPM equipment for condition monitoring here.