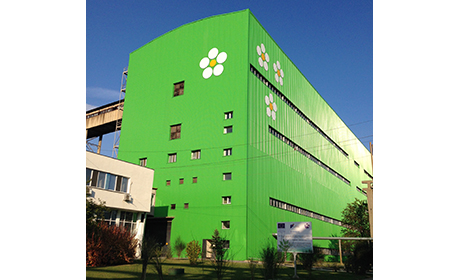 Case study: Outer race bearing damage in low-speed Chemi-Washer
Since upgrading its portable condition monitoring equipment to Leonova Diamond with HD technology, Bulgarian pulp mill Svilocell EAD has been able to benefit from extended pre-warning times. This case study deals with the findings from route-based measurement on the bearings of a Chemi-Washer, where an outer race damage was detected in time for a planned bearing replacement.
The purpose of the Chemi-Washer is to wash the pulp from chemicals used in the cooking process. Since the entire production of pulp must pass it through it, the washer is a mission-critical application, and ample forewarning is thus very important to minimize unplanned downtime.
For this low-speed application – the rotational speed of the washer is approximately 22 RPM – shock pulse monitoring with SPM HD is an ideal choice. Already at an early stage of condition monitoring with the new instrument, the measurements showed high HDm values as well as a high delta value. The indications of outer race bearing damage were very clear.
Svilocell EAD is the only producer of bleached kraft pulp and related kraft products in Bulgaria. The raw material is derived from local tree species: beech, poplar, cerris oak and acacia. The products are used in the production of various types of paper, including tissue papers, printing and copying papers, corrugated cardboard, and others.
Read the full case study here.