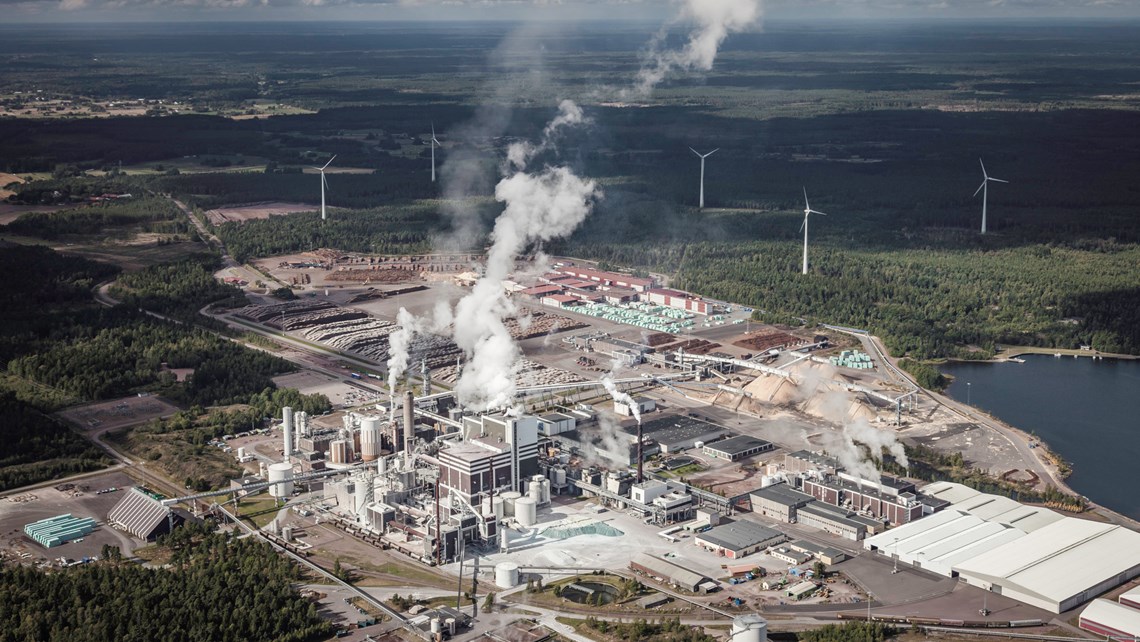 Södra Cell Mönsterås chooses Intellinova Parallel EN for online monitoring of chippers
Swedish pulp manufacturer Södra Cell Mönsterås chooses to equip its two new Andritz wood chippers with the Intellinova Parallel EN online system from SPM to monitor the mechanical condition of bearings and gear drives in the gearboxes.
After passing through the drum debarkers, the logs are turned into chips in two wood chippers, with two rotating discs of approximately twenty tons each. On each disc, there are sixteen knives that cut the logs down into chips. The discs rotate at about 250 RPM. The wood chippers are important for the plant to maintain its production.
The Intellinova Parallel EN measuring system has sixteen parallel channels for vibration and/or shock pulse measurement with HD technology. The patented measurement technologies HD ENV and SPM HD provide crystal clear measurement results and unmatched pre-warning times – more than twelve months is not uncommon. Intellinova Parallel EN is fast-measuring and perfect for condition monitoring of industrial equipment with high availability demands. It is a versatile and flexible system with a range of highly effective features to accommodate different measurement configurations.
In addition to the measuring units, the installation also includes twelve DuoTech accelerometers, enabling measurement with HD ENV and SPM HD on a single sensor.
Maintenance technician Andreas Eriksson commented on the choice of monitoring system: "When we replace our wood chippers during our upcoming planned stop this fall, we will install an online system at the same time. We do this because it is our standard to install online monitoring on important machines on new installations, and because we only have one planned stop per year, we want as long prewarning times as possible, and so the choice fell on the Intellinova Parallell EN online system. The choice of sensors is not difficult because we get both a traditional accelerometer for measuring vibration levels, and shock pulse measurement to detect bearing problems well in time."
The plant in Mönsterås made its first investments in SPM online systems in 2015 in conjunction with the acquisition of new washing equipment in the bleaching plant. The following year, Intellinova Compact was installed on five more wash presses. 
Södra Cell is one of the forestry group Södra's three business areas and one of the world's largest producers of market pulp, with a combined annual production of 1.6 million tons at its three pulp mills in Sweden. With an annual production capacity of 750,000 tons of pulp, Södra Cell Mönsterås is Södra Cell's largest pulp mill. The plant in Mönsterås is also one of the world's largest producers of softwood pulp. Customers are paper mills throughout the world. Based on the timber raw material, the pulp mill also produces green electricity and district heating.